The OLLI Collaboration Program matches well-qualified volunteers with academic opportunities.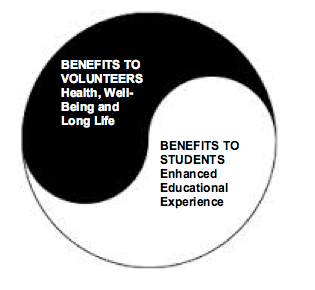 OLLI members are an invaluable resource with expertise and skills honed over decades of life and career experiences.  As volunteers, they are eager to help enrich CSUF academic programs and students' education and career preparation.  The OLLI presence across disciplines underscores the university's deep commitment to teaching and learning throughout one's lifespan. 
For the volunteer, collaboration provides an outlet for continued involvement that research studies have shown to have a positive impact on health, well-being, and even long life.  For the university, collaboration broadens students' educational experience and helps prepare them for successful careers and life challenges.
Begun in 2010, the OLLI Collaboration Program is guided by a Steering Committee of Associate/Assistant Deans and is led by a Working Committee of OLLI members.  During the last two academic years, OLLI members have responded to almost 1000 volunteer opportunities, requiring a few hours, a one-time effort, or an ongoing commitment.
Click below to see descriptions and examples of recent or ongoing collaborations:
CONSULTING                                   SHARING LIFE EXPERIENCES
LECTURING                                       SHARING CAREER EXPERIENCES
MENTORING                                  SERVING AS RESEARCH TEST SUBJECTS
TUTORING


Click Here to See an Article on OLLI Collaboration  from the Center for Internships and Community Engagement Report.
Faculty or OLLI members may click  CONTACTS FOR VOLUNTEERS AND FACULTY  to discuss potential collaborations, to volunteer, to request volunteers, or to comments on existing activities.
Collaboration participants:  Click here for the Collaboration Information Collection Form

whose purpose is to collect information for OLLI Collaboration activities in order to report to CSUF all the wonderful things we do.  Example activities would be any activity which includes students, OLLI members volunteering in classrooms or supporting faculty.
Please complete the form and it will automatically upload the information into a central spreadsheet.  If you have questions about this form, please contact change to Sue Mullaly at olli-vpexternalrelat@fullerton.edu
Thank you for your participation!