ADDING THE OLLI WEBSITE TO YOUR IPHONE OR IPAD'S HOME SCREEN
 The OLLI website can be an 'app' on your iPhone or iPad's home screen. To put it there, start by opening the Safari browser. I.e touch the compass symbol on the bottom of the home screen ( red arrow ).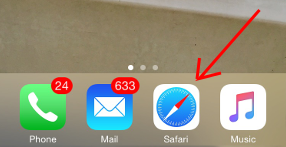 Now, to go to the OLLI website, touch the URL entry box at the top of the display ( red arrow in the next figure) and type olli.fullerton.edu and then touch the  return  key in the bottom right corner.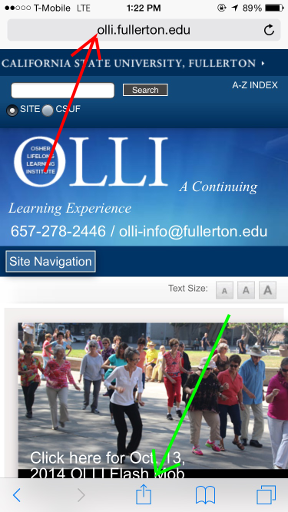 Now touch the 'share' icon ( green arrow in previous figure). This will pull up the menu shown in the next figure. Touch the 'Add to Home Screen' option ( red arrow in the next figure).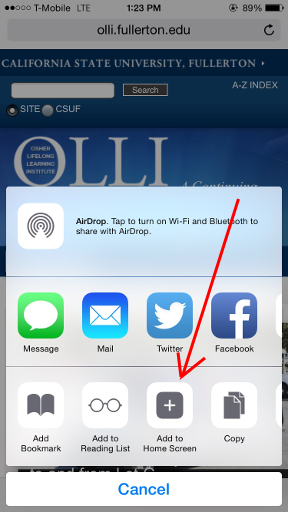 And that takes us to another screen. This screen allows us to change the name to the website. The default is OLLI - CSUF. Make any changes that you want. Then touch the blue Add in the upper right corner ( red arrow in the next figure).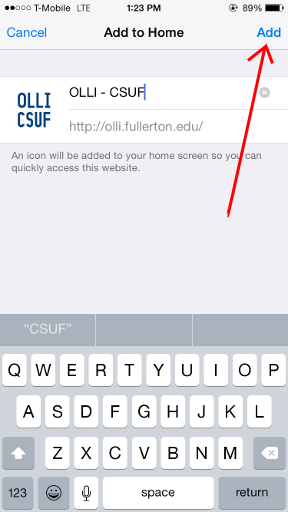 Now there will be an OLLI-CSUF app on one of your home screens like the one in the third row the next figure.