Poetry for Pleasure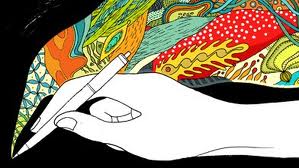 Every Thursday • Fall, spring and summer • Noon-1:45 p.m. • Room 21/Zoom
September 14, 21, 28 • October 5, 12*, 19, 26 • November 2, 9, 16, (23 no class), 30 • December 7
*October 12 meets in Shapiro AB/Zoom
Click here for information about connecting to OLLI zoom classes. (OLLI members only)
Our poetry course is for people who love poetry. We listen to it, read it and even perform it. We take turns leading the class and featuring a poet or theme during the first hour. Then, in the second hour, we do potpourri when we read any poem we wish. Be assured that if you join us, you don't have to write poetry yourself. You just have to enjoy it. Come join us, it's fun!
Coordinators: Juanita Driskell, Alice Gresto and Mary Sampson
Tech Coordinator: Fritz von Coelln
Here is a presentaton about our course that we made for the 2023 Fall Open House.