How to sign up online as a returning OLLI member
---
(Note: If you do not have or remember your username and password, click here for a description on how to create or recover them.)
Before you start, make sure you have your payment method and emergency contact information!
1. Start up a web browser (e. g. Chrome) and enter olli.fullerton.edu into the address bar to go to the OLLI home page.


2. Click JOIN/RENEW in the navigation bar to get to the How to Join page.
3. Click the orange Register Online button to get the member type page.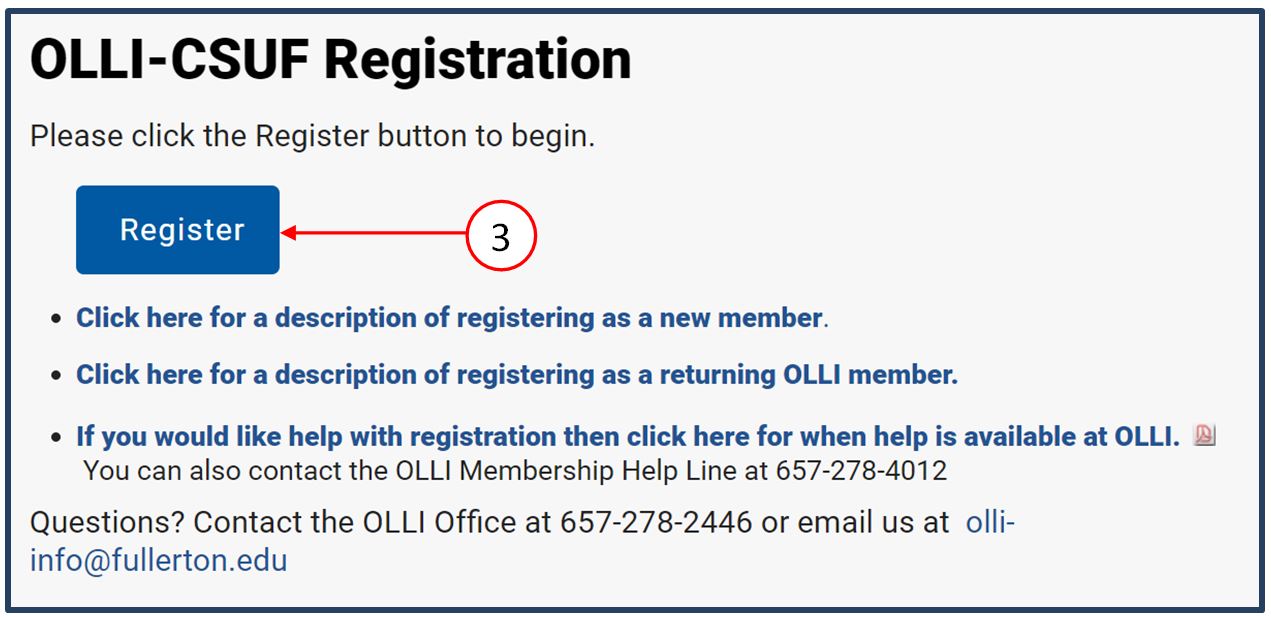 4. Click the Returning Member/Renewing Member button to get the new member registration form.



5. Click Continue to Portal for Membership to log into the CSUF Portal and retrieve your data.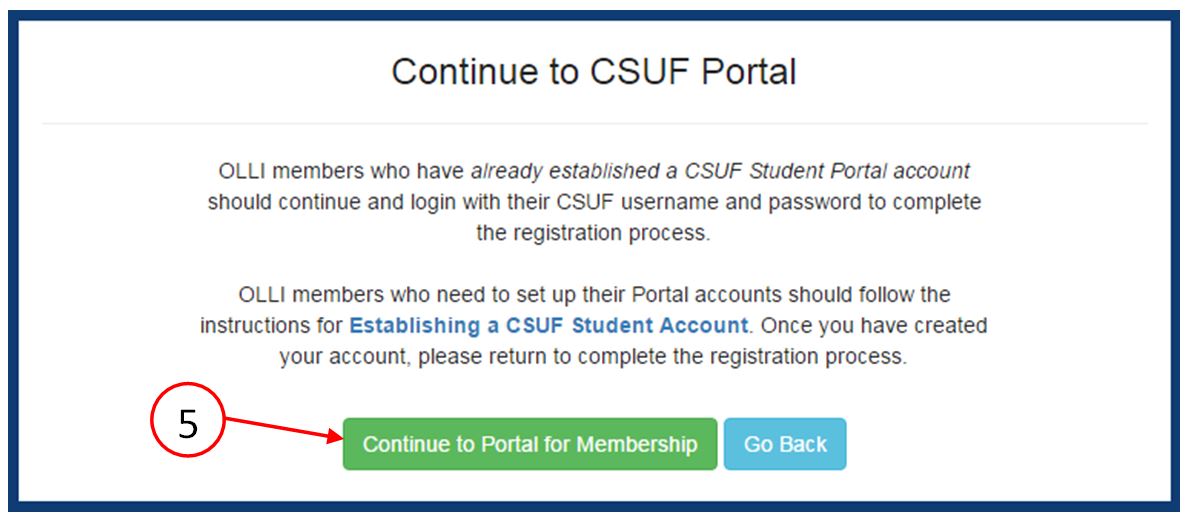 6. Fill in the a) Username field and the b) Password field, then c) select Login to go to the registration page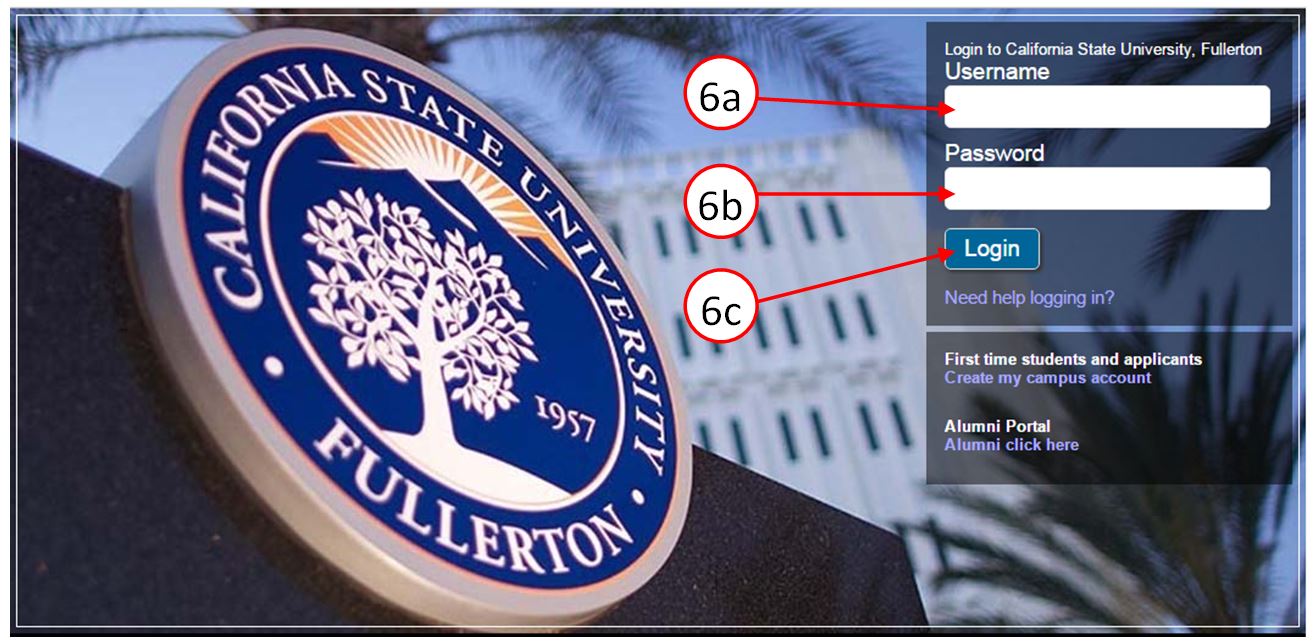 7. Fill in the Address field (with correct capitalization) if needed, and go on to the next field using Tab or by clicking the left mouse button while pointing to the field. Make the name and address look like an address label.
8. Keep filling fields (as needed) in this manner. Use the scroll bar to move down the page as needed. NOTE: All fields with a red asterisk are required.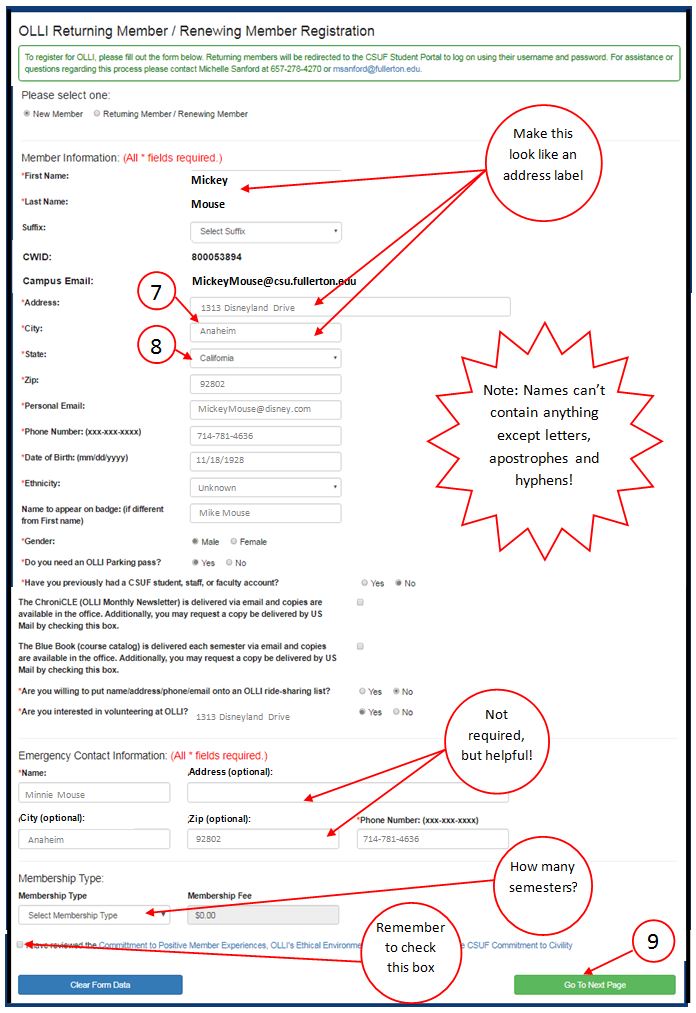 9. Select the Go To Next Page button to go to the Additional Information page. NOTE: If you don't arrive at the Additional Information page, it means there is an error on the form. Scroll to find and fix it.
10. Fill in your address (optional), city, state, zip, and phone number. Do not put any spaces or dashes in the phone number. Select Next to move to the Payment Method screen.
NOTE: While you are entering information into a field, the field may turn red and show an error message saying that the field is invalid. Finish entering the information and the error message should go away.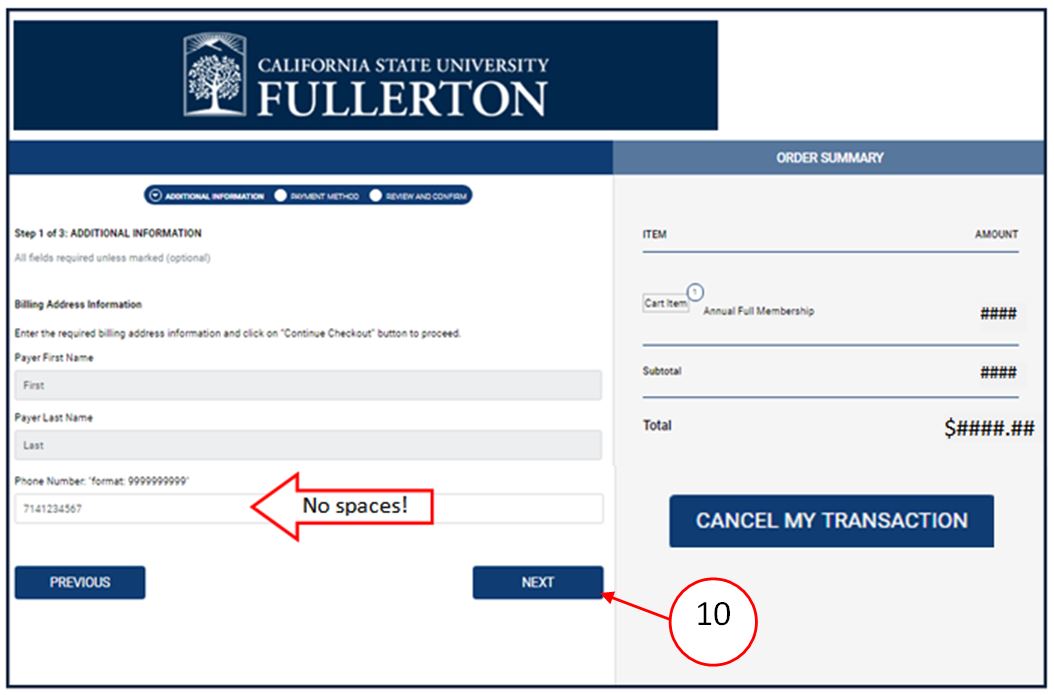 11. On the Payment Method screen, a) select the method of payment, b) fill in all the fields, c) click the "I acknowledge…" button and then d) select the Next button to go on to the Review and Confirm page.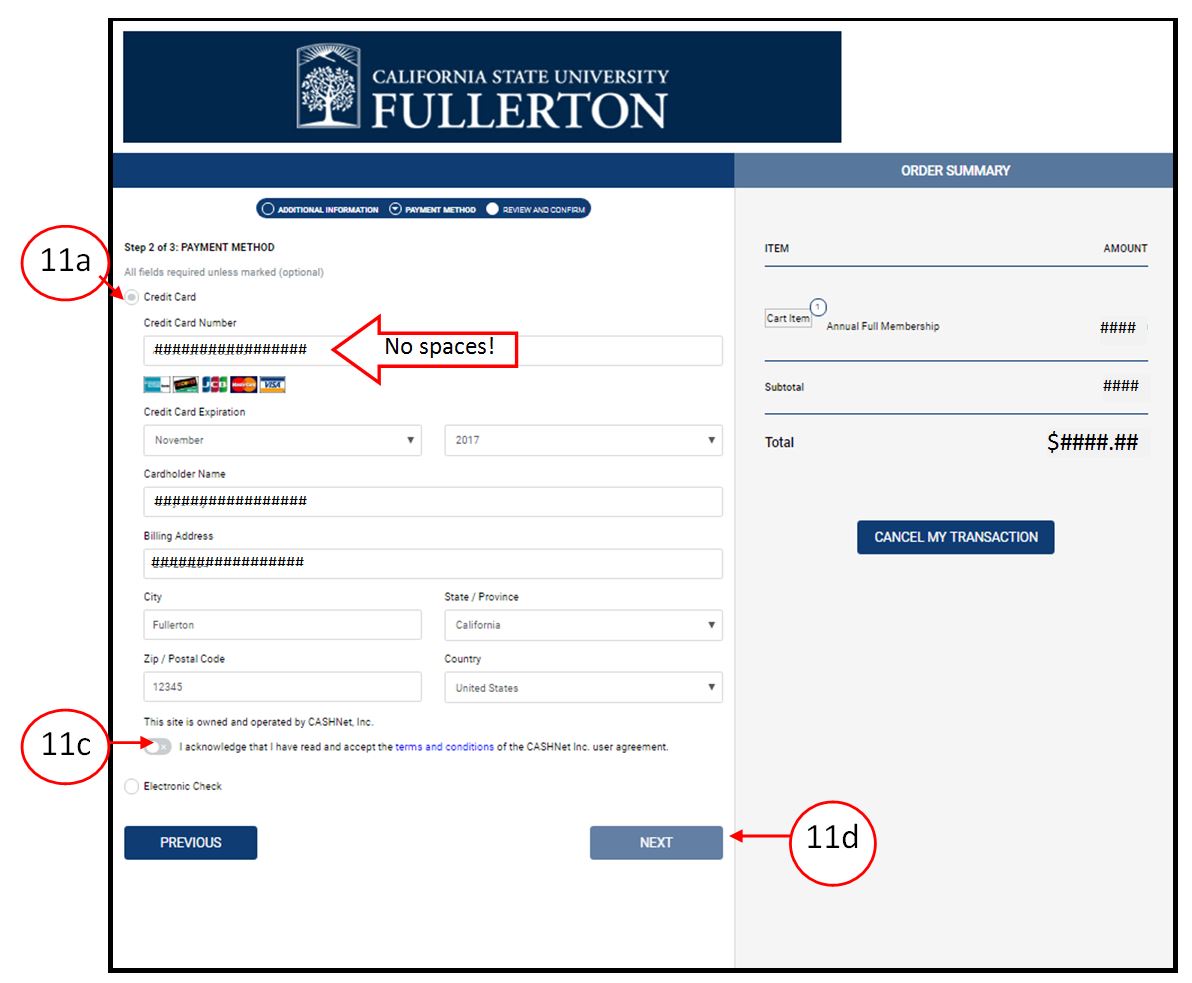 12. On the Review and Confirm page, a) check that the information is correct and b) enter your email address, then c) click Submit Payment to get to the OLLI Payment Receipt. It may take up to 60 seconds to appear.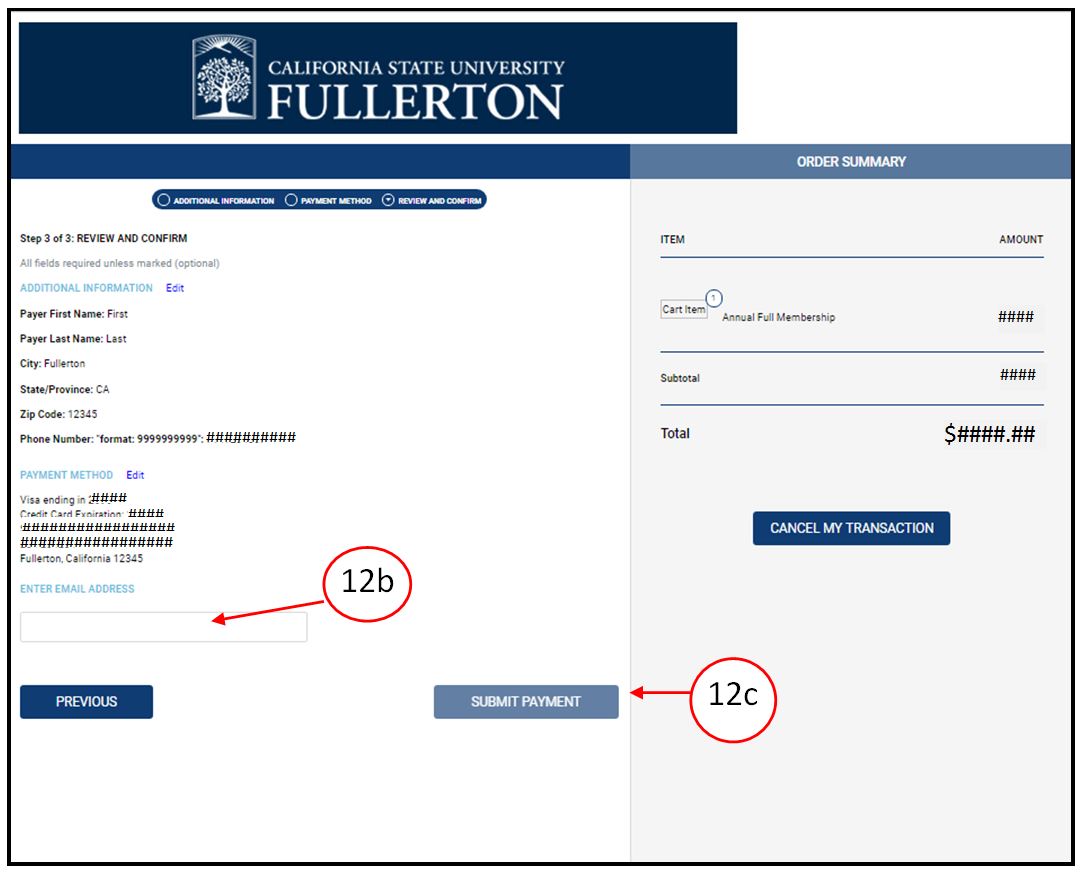 13. On the OLLI Payment Receipt page, a) select the Print Page button to bring up your computer's print dialog box. In Chrome, for example, b) click on the blue Print button to actually print the receipt. (You will also receive an email receipt from OLLI and one from olliwebpay.)
14. To provide valuable input about future OLLI courses and to indicate your willingness to volunteer, select the Click Here button after you print your receipt.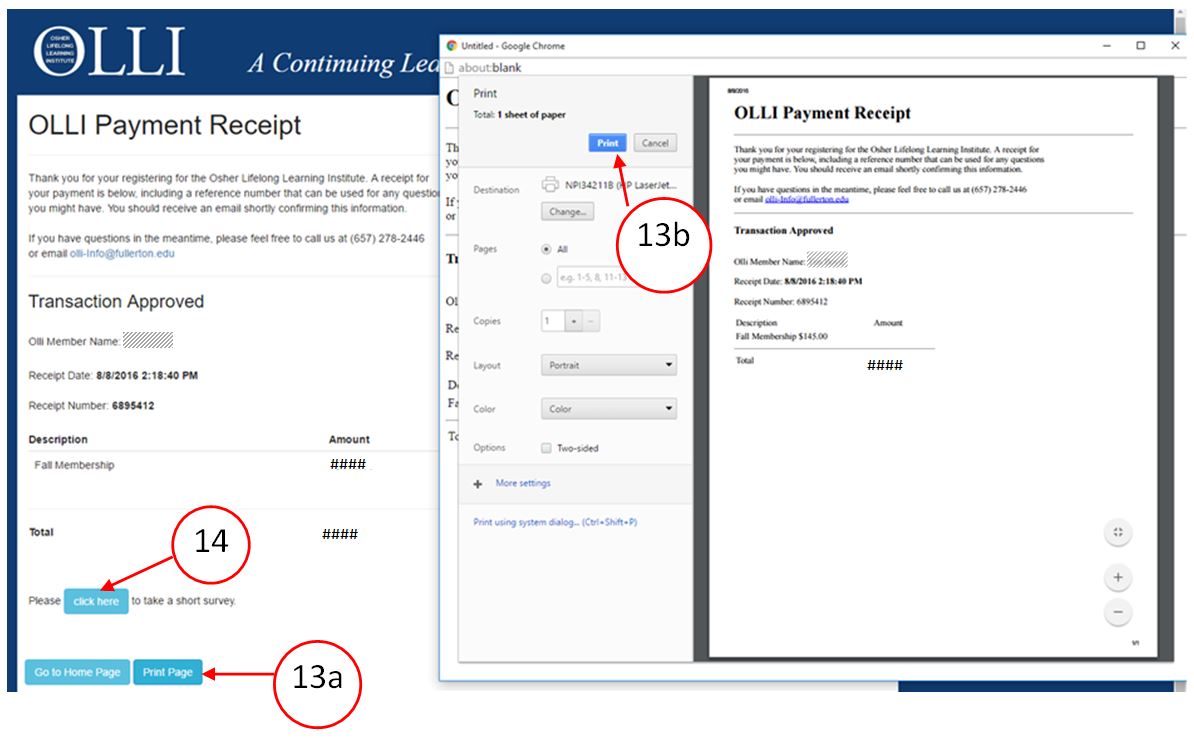 15. YOU'RE DONE! Be sure to log out of the CSUF Portal and close the browser to protect your privacy. You should receive your parking pass (if you requested one) and name badge through USPS mail a week prior to classes starting. If you do not receive them by that time, contact the OLLI office
Updated 7/15/2017