German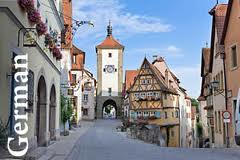 ---
German—Deutschlernen macht Spaß!
Every Tuesday • 12:30 p.m.-2:30 p.m. • Shapiro AB
September 12, 19, 26 • October 3, 10, 17, 24, 31 • November 7, 14, (21 break), 28 • December 5
Guten Tag und herzlich willkommen in der Deutschklasse. During the fall semester, the German class will meet the interests of beginners of German by providing basic vocabulary and structure. The course is centered around topics and this format will allow more proficient German class participants to be challenged by expanding their vocabulary and deepening their knowledge of the grammar. Speaking and listening skills are emphasized throughout the course. Cultural understanding is highlighted and will be
taught via songs, videos, movies, authentic material and German visitors and guest speakers. Handouts—provided by the instructor—will take the place of a textbook. Learning German will be fun and entertaining and if there is a trip to Germany in your future, you will be well prepared for it.
Instructor : Elisabeth Strauss      Coordinator : Ken Luke